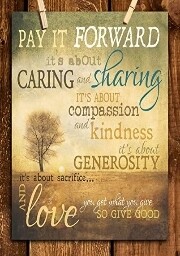 Pay Forward 3rd Edition 365 Daily Reader Ebooks
SKU 050620
Product Details
You are getting Three Ebooks with your order. The PDF book is great for phones and the Ebooks are perfect for Kindles, Nooks, tablets, laptops and desktops.
This is the Third Edition of "PAY FORWARD" - 365 New Daily Gifts To Share. Al Kohallek continues to be inspired by the "Pay Forward's" Plan Of Action; sharing the gift of ourselves, with those we love and those we don't.
We are suggesting for our prep-day to pray and meditate; improving our conscious contact with our Father. Let us seek and find everything we need to practice our plan of action, one day at a time. We are suggesting that we share "Today's Pay Forward" gift. Using "Today's Pay Forward" gift each day will increase its effectiveness and make a good difference. We will have a lot of fun sharing this and make a good difference, if you choose. Come. Let us "Pay Forward" together.
Save this product for later