Click Here for Free Kindle App for IOS, Android, Mac and Widows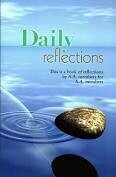 Daily Reflections PDF & Kindle eBooks
SKU 00403872
Product Details
You are getting Three eBooks with your order. The PDF book is great for phones and the eBooks are for Kindles and Nooks as well as tablets, laptops and desktops.
This is a book of reflections by A.A. members for A.A. members. It was first published in 1990 to fulfill a long-felt need within the Fellowship for a collection of reflections that moves through the calendar year--one day at a time. Each page contains a reflection on a quotation from A.A. Conference-approved literature, such as Alcoholics Anonymous, Twelve Steps and Twelve Traditions, As Bill Sees It and other books. These reflections were submitted by members of the A.A. Fellowship who were not professional writers, nor did they speak for A.A. but only for themselves, from their own experiences in sobriety. Thus the book offers sharing, day by day, from a broad cross section of members, which focuses on the Three Legacies of Alcoholics Anonymous: Recovery, Unity and Service. Daily Reflections has proved to be a popular book that aids individuals in their practice of daily meditation and provides inspiration to group discussions even as it presents an introduction for some to A.A. literature as a whole.
This Alcoholics Anonymous (AA) Daily Reflections book is a collection of 366 inspirational messages about living sober through the fellowship of Alcoholics Anonymous.
Buy yours today! Instant download after payment is made. Satisfaction guaranteed
Save this product for later
Our 12 step store recovery goal is to provide you with 12 step books and workbooks for AA, NA, OA, SAA and SLAA
Read 12 Step Recovery Ebooks here from NA to recover