Click Here for Free Kindle App for IOS, Android, Mac and Widows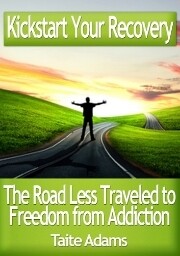 Kickstart Your Recovery: The Road Less Traveled to Freedom from Addiction Ebooks
SKU 00045090
Product Details
You are getting Three books with your order. The PDF book is great for phones and the Ebooks are for Kindles and Nooks as well as tablets, laptops and desktops.
Are you or a loved one unable to stop drinking or using drugs, yet tired of the endless cycle of pain and consequences? Recovery IS possible and it's not as frightening as most make it out to be.

Addiction is a cruel and subtle disease that robs it's victims of so much. Those suffering from alcoholism or drug addiction are often baffled by its affects on their lives and the devastation that can be wrought in such a short period of time. Loved ones feel helpless and hopeless as they are forced to stand by and watch as someone they care about erodes before their eyes, clear that they cannot stop drinking or using drugs.
Luckily, many people are able to reach some sort of "bottom", or a jumping off place, where they are finally willing and able to ask for help and begin the process of getting sober. Kickstart Your Recovery offers a powerful message to those who are looking for a way out from an endless cycle of pain and loss and for tools for avoiding relapse. With a clear approach, and drawing on her own history of addiction recovery, author Taite Adams is able to give the new person in recovery answers to a lot of Frequently Asked Questions about getting sober and allay a lot of fears.
Buy yours today! Instant download after payment is made. Satisfaction guaranteed
Save this product for later
Our 12 step store recovery goal is to provide you with 12 step books and workbooks for AA, NA, OA, SAA and SLAA
Read 12 Step Recovery Ebooks here from NA to recover