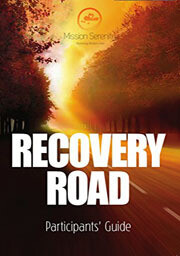 Recovery Road Participant's Guide Ebook
SKU 03405601
Product Details
You are getting Three books with your order. The PDF book is great for phones and the Ebooks are for Kindles and Nooks as well as tablets, laptops and desktops
This Recovery Road Participants' Guide is a very personal book that maintains a record of your own journey of recovery. The work book is packed with useful lessons and supporting quotes from acclaimed, inspirational authors.

Recovery Road is a Christ-centered, 12-step, life-recovery program for all of life's hurts, habits and hang-ups. It is unique. Its approach to small group recovery unashamedly acknowledges Jesus Christ as the higher power. The program is structured around the eight principles of the Beatitudes as they came straight from the heart of Jesus in His famous Sermon on the Mount.

Recovery Road does not just focus on one issue or addiction like other 12-step programs. It is a practical tool for recovery from many of life's regrettable situations.

There is now a hope for the future and we no longer need to remain stuck in our habitual behaviors that tie us down and hold us back.
Save this product for later
Our 12 step store recovery goal is to provide you with 12 step books and workbooks for AA, NA, OA, SAA and SLAA
Read 12 Step Recovery Ebooks here from NA to recover