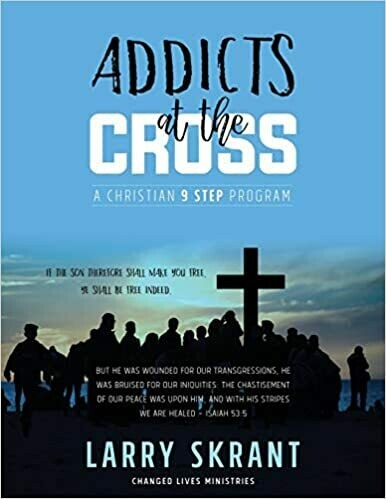 Addicts at the Cross - A Christian 9 Step Program eBooks
SKU 0034890030
Product Details
You are getting Three eBooks with your order. The PDF book is great for phones and the eBooks are for Kindles and Nooks as well as tablets, laptops and desktops.
Addicts at the Cross takes a bold, unabashed stance in stating that the Bible is true: If the Son therefore shall make you free, ye shall be free indeed (John 8:36). The 9 steps will walk students to the cross where Christ sets the captives free. These steps aren't magic, but a willing and determined pursuit of freedom through them will guide the student to a place where overcoming addiction is possible.


Society tells us poverty, lack of education, and unemployment are the underlying causes of addiction. Though strong families and education are vital supports for a stable society as they help a person discover how to act and what to do, the roots of addiction develop and grow from "who" the person is. This 9 step study is designed to dredge up the soil of the addict's heart and uproot the underlying causes of addiction, thereby genuinely setting the addict free.
Buy yours today! Instant download after payment is made. Satisfaction guaranteed
Save this product for later